Article from Barrie Advance – August 22, 2013
Performer takes comedic look at fatherhood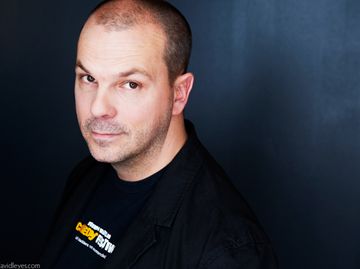 Performer takes comedic look at fatherhood
Submitted photo
Chris Gibbs performs as part of the Barrie International Comedy Festival Sept. 21.
Barrie Advance
Chris Gibbs wants you to bring your parents to his show.
The comedian will hit Barrie as part of the Barrie International Comedy Festival Sept. 21.
Gibbs will bring his one-man show, Like Father Like Son, to the Mady Centre For the Performing Arts stage.
"The show is all about me becoming a father and all the things I was afraid of," he said. "I think when you are younger, you believe that, one day, you will suddenly feel grown up. When I found out about my son, it was like, no way, I can't have a child. I may be 42, but I still feel 13."
Gibbs said unique "family friendly" show is not to be confused with a kid-friendly show.
"It's not that there is anything in there that isn't appropriate for kids, but they are going to be bored," he said. "I think I am family friendly because there isn't a lot of swearing compared to other shows. Feel free to bring your parents."
The British-born comedian began his performance career in 1991, working as an acrobat on the streets of London.
He's toured extensively as a stand-up comedian and improviser, has written and performed five award-winning one-man shows, was a regular guest on NBC's comedy series Howie Do It, has performed at the Just For Laughs and the Winnipeg Comedy Festivals, starred in the Canadian indie feature Run Robot Run, and is even a published author.
"I wrote a book on one of my shows and I really enjoyed it," he said. "The plan is to write a book on another one of my shows. I also finished a web series recently. It's completely done, I just need to get it on a website."
Gibbs performs Sept. 21 at 8 p.m. at the Mady Centre for the Performing Arts. For more information, visit tift.ca or call 705-792-1949.
Tickets are $39.